Vanakkam with Balakumar PARAMALINGAM
Vankkam! Balakumar PARAMALINGAM, Indian Percussionnist visits us in a Workshop on South rythm and Konnakol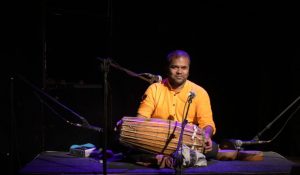 Workshop "Konnakol" : rhythmic language in Indian Percussion
Konnakol is the oral percussion and rhythmic language of the carnatic tradition (learned music of south india). This language uses syllables or words called "Chollukattu" that he combines with the rhythms and cycles that are hit by hand.
The use of different cognitive senses (auditory, sensory and visual) allows a better learning of the rhythm.
Recognized and inspired by different musical genres, Konnakol is a very powerful teaching tool that allows you to learn and understand rhythms using polyrhythmic combinations, to build improvisation skills, rhythmic arrangement …
Open to musicians, dancers, teachers and everyone curious about the rhythm …..
Sonntag 08.07.2018/ Uhrzeit: 14:00 Uhr – 18:30 Uhr
gefördert vom

über